About Entangled Bank & Rachel Mason Dentinger
Entangled Bank takes its name from the first sentence of the final paragraph of Charles Darwin's On the Origin of Species (1859):
It is interesting to contemplate an entangled bank, clothed with many plants of many kinds, with birds singing on the bushes, with various insects flitting about, and with worms crawling through the damp earth, and to reflect that these elaborately constructed forms, so different from each other, and dependent on each other in so complex a manner, have all been produced by laws acting around us.
I am a historian of biomedicine, ecology, and evolution, living in Salt Lake City with my husband Bryn, who studies the evolution of fungi at the Natural History Museum of Utah, and our two children. I am a scholar-in-residence and instructor at the University of Utah, and in Fall 2016, I teach a medical humanities course and history of medicine course (Hist 3910: "From Cholera to Kuru: Disease & Medicine in History, from the 19th Century to Today").
I completed my Ph.D. in the history of science at the University of Minnesota in December 2009. My dissertation is entitled, "The Nature of Defense: Coevolutionary Studies, Ecological Interaction, and the Evolution of 'Natural Insecticides,' 1959-1983."
Most recently, I worked as research fellow at the Department of History at King's College London, working on "One Medicine? Investigating Human and Animal Disease," a project funded by the Wellcome Trust. My current research focuses on the history of 20th-century parasitology and the role that evolutionary theory played in developing concepts of host-parasite and host-host relationships.
My scholarly writing:
In August 2015, my paper, "Patterns of Infection and Patterns of Evolution: How a Malaria Parasite Brought 'Monkeys and Man' Closer Together in the 1960s" (it's open access, so free for anyone to read!) was published in the Journal of the History of Biology. This paper is part of a special section (in Vol 49, number 2), which includes an introduction co-authored by myself and Pierre-Oliver Méthot, "Ecology and Infection: Studying Host-Parasite Interactions at the Interface of Biology and Medicine."
My paper, "From 'Actual Forces' to 'Token Stimuli': Gottfried S. Fraenkel and the Evolutionary 'Raison D'Être' of Plant Molecules, 1930s-1960s" (a revision of the first chapter of my dissertation, which won the History of Science Society's Reingold Prize in 2009) is forthcoming in Historical Studies in the Natural Sciences in 2017 (volume 47, issue 2).
My recent scholarly and public presentations:
Most recently, my colleagues and I from King's "One Medicine?" research group participated in  Being Human, the UK's national festival of the humanities, where we used objects from the collection of the awesome Hunterian Museum to talk about Being Human/Being Animal.
At the end of May, I travelled to my hometown of Minneapolis, MN for the meeting of the American Association for the History of Medicine, to chair the session, "Entangled, Global, and Comparative Disease Histories: New Perspectives on Evolution and Disease," and present my own paper, "The 'Host-Parasite Method': Infection as a phylogenetic character in early 20th-century parasitology."
Science Writing:
I have written for Kew Magazine and The Naked Scientists.  In 2012, I won the Garden Media Guild New Talent Award for some of my Kew Magazine pieces, including "Seeing the Wood for the Trees," "Underground Connections," and "The Allure of Dracula."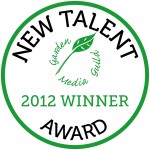 For this award, the judges wrote, "Rachel stood out for her ability to make scientific content accessible to all, skilfully weaving botanical terminology, enlightening interviews and a wonderful sense of place into her pieces – never dumbing down, and always educating upwards."
For more on the awards ceremony, check out the Kew Magazine blog.
Also check out:
My review of Peter Bowler's 2013 book Darwin Deleted: Imagining a World Without Darwin for BooksAndIdeas.net– which subsequently had my review translated into French!
Contact me: rachelDOTmasonDOTdentingerATutahDOTedu
All images and text (unless otherwise attributed) fall under the following copyright:

Entangled Bank by Rachel Mason Dentinger is licensed under a Creative Commons Attribution-NonCommercial 4.0 International License.